Eureka authentic creole house in Mauritius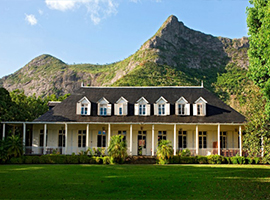 Found in the very heart of Mauritius, in Moka, Eureka is the ideal place to enjoy the inland beauty of the island. Behind 'La Maison Créole', colonial house converted into a museum and the picturesque green surroundings.
History
The house was built by Mr. Carr, a british notable who wanted to be nearer to 'Le Réduit' where the governor lived. We hence learn that a certain Reculé sold the property "of spices and sugar canes" to Mr. Montmirail who left the french revolution in 1793. In 1812, Mr. et Mrs. Robinson bought the property and later sold it to Mr. Eugène Leclézio in 1856, father of Sir Eugène Leclézio, chief justice and Sir Henry Leclézio, attorney and member of the Legislative Assembly..
The story of a family, of a house..
After the battle of Valmy, François Alexis Le Clézio, ship owner from Lorient, Britanny, left France to meet his brother in India. On his way, he stopped in, at the time named Isle de France. During his voyage, François came to know some famous privateers of his time: 'Dutertre', 'Le Tellier', 'Le même' (who was the captain of the ship 'La Fortune') and the well known Robert Surcouf.
François Alexis has four children. Eugène, one of his sons converts his father's office into an attorney's office. He is later successful in acquiring the property of Eurêka from an english man nammed Robinson. François Alexis Le Clézio dies at Euréka and many more generations were born there. Sir Eugène, chief justice and Sir Henry, attorney and member of the Legislative Assembly both lived at Euréka.
Jules Eugène Leclézio (father of Sir Henry and Sir Eugène)
M. Eugène was appointed director of the Mauritius Commercial Bank where he became president on the 6 November 1871. Founder and editor of the newspaper Le Mauricien in 1833, he played an important role in stopping the setting up of a second commercial bank on the island. He was again president of the MCB in 1879 and vice-president in 1877 and 1878. Born in 1805, he lived till the age of 88. Three years after the end of the World War II, many sugar estates were desperately trying to recover from prevailing war shortages.
Fernand Leclézio
Fernand Leclézio, then 42 years old, managed to convince the Gujadhur family to sell the majority of their shares in The Union Flacq Sugar Estates Co Ltd to Unity Ltd, a holding company controlled by F & R Leclézio & Co Ltd.
'Fernand Leclézio was a precursor. By having the Gujadhur family (hindu family which were considered then as inferior by the french) as business partners while setting up FUEL Sugar Estate, he already could see Mauritius of today.' - Jacques de Marroussem.
When Simone Leclézio, the only aunt who inherited Eurêka and the fortune of the Leclézio family, died in 1980, there were 104 nephews and nieces, some of them already grand-parents. Euréka was given to Fernand Leclézio and the fortune was distributed among the rest of the nephews and nieces. Fernand Leclézio had emmigrated to Switzerland where he died at the age of 85, in 1989. Fernand Leclézio sold the property in 1985 to 2 real estate agents. The agents in turn wanted to sell it two months later and Jacques de Maroussem (married then to Monique d'Arifat whose mother is the grand child of Sir Henry Leclézio) and his in-laws bought Euréka.
"This house is the most important belonging of my family, and now it is destined to be parcelled and sold out in small plots." wrote Jean Marie Le Clézio in his novel 'Voyage à Rodrigues'.
"A miracle happenned! The project was abandonned and we bought back Eurêka," explains Jacques Planteau de Maroussem, present owner of Eureka, who narates the various events from different periods of the property & the change of ownership and their problems with an exquisite charm. Jacques de Maroussem and his three sons are now the owners of Euréka.
E-mail:
info@mauritiusproperty.org