Luxury Maisons for sale in Seychelles Islands - Eden Island
Overview
| | |
| --- | --- |
| Project: | Eden Island |
| Category | Luxury Maisons |
| Location: | Eden Island |
| Serial Number: | 002SE |
Luxury Maisons for sale in Seychelles Islands Eden Island
Maisons are private, spacious semi-detached houses that vary from three to four bedrooms, all built standard with large en-suite bathrooms. Made to represent the same standards of luxury as apartments and villas at Eden Island, maisons are situated on plots that range from 260m2 and 1,000m2, with each Maison facing in a different direction to the next – for the added privacy of its residents. The Maisons come in three different finishes inspired by the island paradise surrounding Eden Island.
When deciding to buy Eden Island Maisons, not only do you benefit from stunning ocean, forest or mountain views, but also from a selection of upmarket facilities. A haven for yacht and boat owners, Eden Island is also one of the few island marinas in the world that is able to house super yachts measuring up to 100m in length.
Eden Island Maisons are surrounded by blue and green hues of the ocean and tropical forests as well as the many fruit-growing trees, colourful bird species and specks of floral plants that add to the island's visual appeal. Browse our available Maison Listings for more information about the specifications, prices, interiors and floor plan
Purchasing a property on Eden Island
Purchasing a property on Eden Island automatically qualifies the purchaser to apply to the Seychelles Government for a residency permit. Up to 6 families per property qualify for Residency, which costs 150 000 SCR per family (husband, wife and up to six children who are less than 18 years of age) which is reviewable & renewable every 5 years. (Please note that this is residency, and not citizenship).
The developers have created a dedicated rental facility on Eden Island, should you decide to rent your property.
Each purchase attracts a Notary Fee payable over and above the Purchase price. The Notary fee is calculated at 1.4% of the purchase price for Private Entities and at 1.6% for Corporate Entities (both on a reducing scale).
A monthly service charge is levied, which includes 24 hour security, maintenance of communal green areas and beaches, administration costs of the Village Management Association and the club house, comprising of a swimming pool, gym and tennis court. This charge is US$4.50 per internal m2 of living area of the property, plus US$70 for the upkeep and maintenance of the mooring. There is an additional charge of US$0.48 / internal m2, which covers maintenance costs for your apartment block. Each property pays its own electricity, water and insurance costs.
BMI, an Offshore bank located on Eden Island will finance up to 70% the value of the property, at a rate of approximately 4.75% + 3 month LIBOR ( Revisable every 3 months ) which should work out to about 5%.
Eden Island is located on the East coast of Mahé', opposite the Wharf Hotel, 10 minutes from the International Airport, and 5 minutes from the capital, Victoria.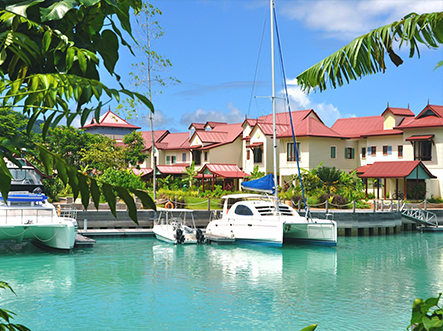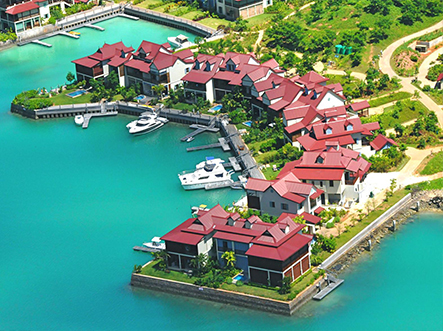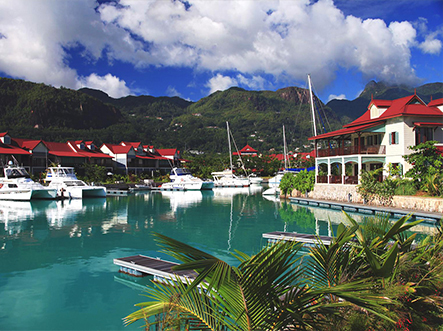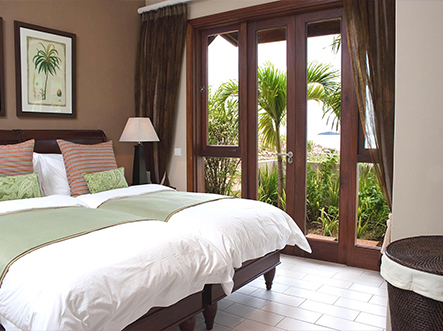 Seychelles Islands