Properties for sale in Mauritius Tropica Baie Res Scheme
Overview
| | |
| --- | --- |
| Project: | RES |
| Category | Luxury residential Complex |
| Location: | Grand Bay |
| Serial Number: | 064E |
Tropica Baie RES project in Mauritius Island
Approved under the RES scheme, Tropica Baie is a luxury residential project that consists of 7 beautiful freehold villas. These contemporary villas are a subtle blend of elegance and sophistication that will be accessible to foreign buyers looking for a paradise island for a comfortable retirement or to afford a better lifestyle with clear tax advantages.
Three type of villas will be available: the villa on one level with two, three and four main rooms. Tropica Baie is located in Pereybère where most RES projects are implemented. Located in the north of the island, Tropica Baie enjoys an exceptional setting being half an hour from the capital Port Louis and five minutes from Grand Bay. Upon arrival, you will be under the spell of these beautiful villas situated in top notch environment appreciated for its beauty, tranquility and security framework. The plots range from 299 sqm to 302 sqm and have stunning views of the beautiful Coin de Mire island that can be found off the shore in the north coast of Mauritius
The properties available:
3 types of villas to choose from:

- 1 - 2 bedrooms villa on one level,
- 4 villas 3 bedrooms on one level,
- 2 4-bedroom villas with 1 stage.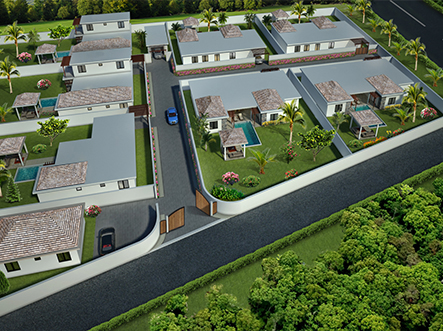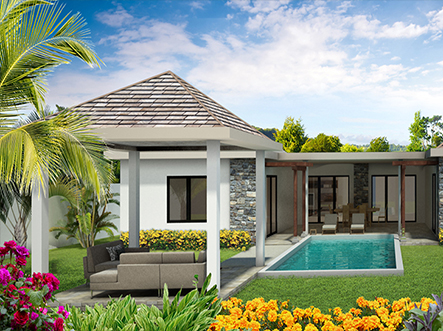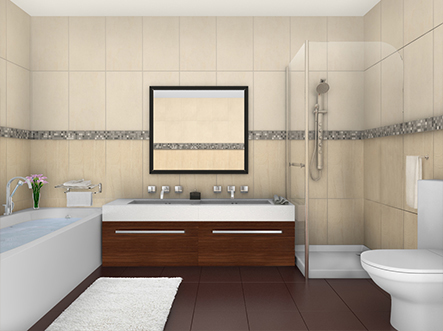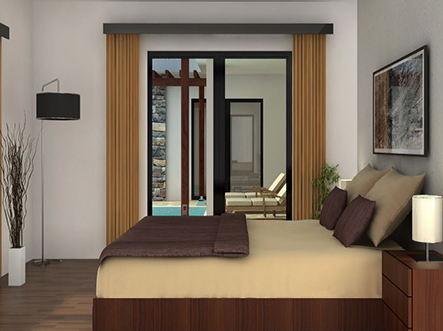 Villas Specification
COMMON AREAS - Trustee

▪ To the residence enclosed and secure (guard 24/7)
▪ Service gardening and maintenance of common areas
▪ Electric gate
▪ Lighting of public areas

UNITS EXTERIOR
Garden
▪ Closure device plots (ripe stone and concrete)
▪ Surfaces grassed garden
▪ Plantation of trees (coconut palm) and flowering plants
▪ Garden lighting in LED
▪ Walls with stone cladding
▪ Path pedestrian paved cement / stone

Swimming pool
▪ Pool traditional (7.5 * 4)
▪ Slate Finish
▪ Filtration System

kiosk
▪ Shelter with concrete cover a floor area of ​​4x4 m and slate finish
▪ floor ceramic tiles and the path near pool

Garage
▪ Covered and enclosed in concrete for 2 cars (except two bedroom villa)
▪ Automatic Door

Terrace
▪ Tiles 40cmx40cm or 60cmx60cm

VILLAS
Sanitation and water distribution
▪ Individual Septic tank with absorption well
▪ Underground tank of 4000 liters

Masonry
▪ Walls structure made ​​of cement blocks (thickness. 20cm) with horizontal and vertical cross-references
▪ Coated Finish (per plan)
▪ Siding massive stone (per plan)
▪ floor slab reinforced concrete
▪ Cover concrete slab: flat (flat roof) or 4 slopes
▪ Sealing multilayer slab and roof
coverage
▪ Coverage slate roof slopes 4

Exterior
▪ Main entrance door: all semi solid timber joinery
▪ secondary door (Garage): Aluminum General carpentry aluminum dark tone with single glazing
▪ door or sliding glass door (bedrooms, kitchen) to cyclone standards
▪ Glass doors (bathrooms)
▪ Fixed Frame

Interior

Interior equipements
▪ Solid doors with solid wood semi-gloss wood finishes
▪ handles and hinges metal
▪ cupboards with interior (wardrobe and shelving)

interior finishes
▪ Soils: Ceramics 60cmx60cm or 40cmx40 cm - beige or white Location: Living room, bedrooms, kitchens, bathrooms, toilets, dressing rooms, corridor, store
▪ Walls: VIP Painting matt or satinée- color choice in supplier swatch of 1 piece of each piece (Living room, bedroom, corridor, store)
▪ wood baseboards periphery of each piece
▪ Ceilings: VIP Painting matt or satin - color selection chart in supplier (Living room, bedrooms, kitchens, bathrooms, toilets, dressing rooms, corridor, store)

Electricity
▪ electrical box with protection by RCDs
▪ Distribution, channel embedded in masonry
▪ Plugs, control boxes and recessed upscale (Legrand) switches
▪ Luminescence (LED or normal lighting)
▪ phone jacks (living room, office and bedroom)
▪ Pre satellite dish wiring with individual location (room, office and bedroom)

kitchen
Kitchen comes with:
▪ Sink and faucet (Huayi)
▪ worktop granite
▪ Furniture top and bottom, center island (choice of colors depending on the color chart from the supplier)
▪ Electrical Equipment (electric induction hob 4 points, 2 door refrigerator, oven, dishwasher, extractor hood, washing machine in the store air conditioning
▪ Air-type "multi-split" in 2/3/4 bedrooms, living room and office

Bathrooms
Bathrooms come with:
▪ Bath Built (1 master bedroom) acrylic finish
▪ Showers Italian (tiled floor with floor drain)
▪ Vasques resting on granite worktop
▪ suspended drawer cabinet (choice of colors depending on the color chart from the supplier)
▪ WC in bathroom rooms and common toilet
▪ stainless fittings (Huayi)
▪ mirrors